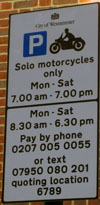 I had to head over to my old haunt in Soho tonight to catch up with some old work colleagues. However unlike the the rest of London, Westminster council charge for motorcycle parking in the solo bike bays – the cheek!
You have to register first, then phone or txt through, with details of your bike reg and the parking bay location id. Full details can be found on the Westminster Council website here. The charge is £1 a day. Not going to break the bank, but a right faff when parking up. it is however free after 7pm, until 7am. I can definitely recommend signing up and sticking the number on your phone handy for when you may wonder into the West End.
To find out where there are convenient parking bays, I can recommend this site: ParkingForBikes.com. It has a decent search engine and interactive map, highlighting which bays are free and which aren't.