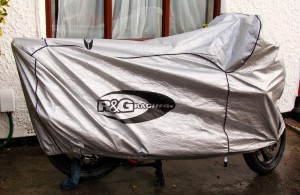 Unfortunately I don't have the luxury of a garage or shed to store my motorbike, I have to park the bike on our driveway, open to the elements. There's no two ways about it, a bike will never last as well stored on the drive like this. But a decent rain cover can mitigate this somewhat.
But which cover? It seems you spend anything from a tenner to nigh on a monkey for a top notch cover. But what is really worth it?
I was looking for something durable, water proof (duh!), not going to melt on the exhaust and easy to put on and take off. Going through the reviews, the general verdict was an Oxford Stormtex or R&G Racing Superbike cover, which come in at £40 and £60 respectively. The Oxford cover has the edge in the heat proof stakes, but costs more. However R&G have an outlet store on ebay, where I managed to pick this cover for a measly £25! No contest.
Edit: The cover is a little tight fitting, particularly so since adding the Givi top box rack, which juts out a bit at the back. As to heat from exhaust, I've never had a problem, by the time I've chained up the bike and removed top box, the can is plenty cool to pop cover over the top.
Visit the R&G Outlet Shop on Ebay.