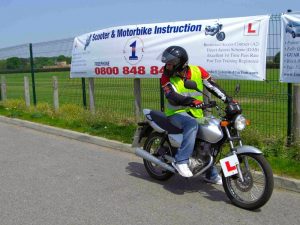 Compulsory Basic Training. It's what all bikers need must get through before they hit the road on two wheels. Today, I completed my CBT with 1-Stop Instruction over at Fairlop (NE London).
The training is basic, beginning with simple safety points (helmets, boots etc), then an introduction to the bikes (location of controls, on-off stand). Before moving onto simple manoeuvres around a car park and then escorted onto the road for final assessment. The CBT can be done on an automatic scooter or a traditional manual 125cc bike. I opted to do the CBT on a manual 125, as my dream is to move up to a proper big bike. 🙂  However unlike cars, passing the CBT on an automatic will still let you ride on a manual 125 afterwards.
This was my first time on a bike, so a little nerve racking. I was initially a bit stumped, as I took my big goth boots along, thinking they'd be best on the bike. However the steel toe caps stopped me changing gear, so I had to switch back to Converse. Not ideal biking footwear, but much easier to control the bike. Clutch control took time to get the hang of, it's a real knack to use it to fine tune speed, rather than tweaking the throttle.
Overall, I came away very chuffed and can't wait to get back on a bike now. I can now legally ride a 125cc bike on the road on my own – phaww! My dilemma now, is do I try and find a small bike to build up some experience, or do I continue onto a Direct Access (DAS) course and aim to start on a big bike (500cc ish)?