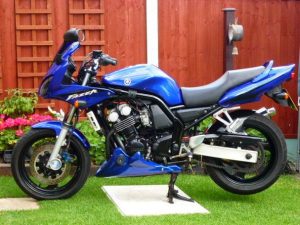 Well, of course, I'm going to list a Fazer 600, it's the bike I started out on! But it does meet all my mentioned criteria to make it a perfect first big bike. It's cheap (£1000-1800), cheap to insure, reliable, nimble for city use, fast and fun on rural roads, fairly economical (~50 mpg), the bikini fairing eases long-distance riding and parts are plentiful and cheap.
There are two variants of the original Fazer:-
1998-2001: Original 'square eye'.
2002-2003: Later 'Fox-eye', featuring better headlight, better mirrors, better styling and a bigger tank.
The later 'Fox-eye' models only command a little more and are definitely recommended in preference.
Both have an inline 4-cylinder carb'd 600cc engine, that's bulletproof. Front brakes come from the R1, but the stock rear is prone to seizing up if not regularly maintained (many swap for the Fazer 1000 'blue-spot' calliper to match fronts). Original down pipes will probably have rusted away by now, but a full stainless steel system from Motad comes in for just over £200. Similarly, brake lines and radiator hoses may be in need of replacement by now. Chains tend to last ages, but watch out for a gearbox popping out of 2nd, this could be selector rod issues. The front sprocket nut should have been replaced with a  bigger one (as per Yamaha service schedule), the original can come unscrewed and trash the output shaft.
The FZS600 is just on the limit for restriction for A2 compliance, so there is some confusion on whether it can legally be restricted for an A2 license. However, this Dept for Transport page says the FZS600 is A license only.