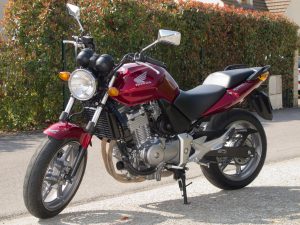 It seems like the Honda CB500 has been staple commuter bike since the dawn of time, when wheels were invented and some prophet stuck one in front of the other to courier stone tablets about. The CB500 is slightly older (pre 2004), but both share a nigh identical parallel twin 499cc engine. Early CB500's (pre 1997) had a rear drum brake and later CBF500 had the option of ABS. The 2004 CBF500 also swapped in an adjustable rear monoshock to improve handling.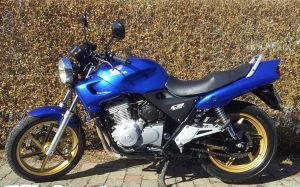 The CB500S variant had a bikini fairing, but the rest were all naked. For years the CB/CBF500 was the default and ubiquitous choice for couriers and training schools. They are insanely reliable and often keep on going into six digit mileages. Expect a solid and capable commuter, just not the most exciting. Prices can start very low for older tatty examples and later ABS equipped models do demand a premium, but a decent one can be had for below £2000. Insurance is dirt cheap too.
As with any old, well used bike, check if downpipes are rotten or forks pitted, and any particularly bad damage from inevitable mishaps. Also check the lower shock mounting on the swing arm of the CBF, as this is exposed to crud from the wheel and can seize up solid. Unfortunately centre stands weren't standard.
[subpages childof="1841″ sort_column="post_title"]