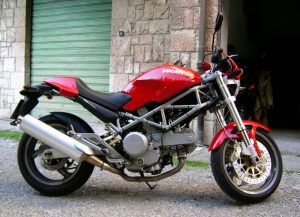 The name Ducati often conjures up an image of exquisitely designed Italian sports bikes, perhaps not what immediately springs to mind for a newbie's first bike big. However, the Ducati Monster range of bikes are surprisingly affordable and make great beginner bikes. Since the Monster has been around since the 1993, there are many second hand quite cheap, and often in good nick thanks to fastidious Ducati owners.
The key models that can found for around £2000 or less are the M600, M620, M750 and M800. With the M600 and M750 being the earlier carb'd models and the M620 and M800 later fuel injected models with a bit more power. However there are Dark and S variants of each too. The Dark being a slightly trimmed down matt black version, with no 6th gear and cheaper forks and brakes. The S version is sportier with an Alu swing arm and more ground clearance. All are naked bikes, reasonably reliable (aside from a few electrical charging issues on earlier pre '98 models), perfect for a city commute. The Monster's are exceedingly manoeuvrable, ideal for cutting through the traffic queues, but don't have masses over power, and being naked, motorway riding will be hard work without an after market screen.
On the plus side, the Ducati brand retains value well and all models mentions can be restricted for use on an A2 license.