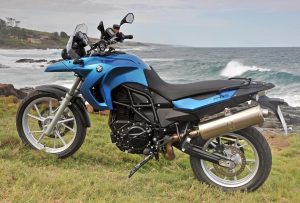 You've probably all seen Charlie Boorman and Ewan McGregor going round the globe on huge BMW adventure bikes. All very enticing, but despite deriving from this stock, the BMW F650 GS actually makes a very good first big bike for commuting. But first you need to aware of the confusing naming of the F650GS'.
The original F650 Funduro and Strada from 1993 – 2000, was a 650cc single jointly designed with Aprilia. Following this in2000-2007 came the F650GS, another 650cc single solely designed and build by BMW. Later from 2008 onwards the F650GS became a 800cc twin (despite it's name). To further confuse things, in 2011 BMW introduced the G650GS to the UK, which is a 650cc single, that can be ridden on an A2 license unmodified.
The F650 was a reasonable bike, but not a patch on the later F650GS, whose key advantages are: very low seat height (with options for genuine lowered seat and suspension to drop it further), relatively light weight, a fuel tank under the seat to give a very low centre of gravity, a comfortable upright riding position perfect for seeing over traffic, fuel injected engine, great fuel economy (60+ mpg) and top notch BMW build quality and BMW's low depreciation of value. The later F650GS also has ABS as standard – bonus! All of which adds up to a great newbie bike, especially favoured by those of short statue. What they may lack in excitement and speed they make up for in practicality and comfort.
Like all adventure bikes, there's no fairing and they're designed to take a few knocks and bumps. A supplied screen helps ease buffeting on long motorways rides. The only real downside is the price. Second hand, only the early F650's can be hand for £2000 or less. For a 2008 onwards F650GS or newer G650GS budget on £2500-3500. At least they're cheap to insure and less desirable to thieves compared to other bikes.
For the bargain hunters out there, also look up the F650 CS 'Scarver', loosely based on the original F650, but with very unique 'city' styling (read Marmite, you'll love it or puke) and belt drive. Not a bad bike, but often very cheap due to its offbeat design. For the real adventure riders, look out for the Dakar version better set-up for real off road action.