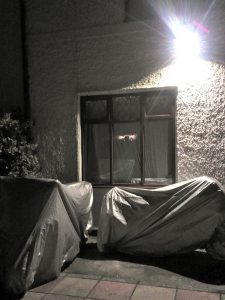 A great deterrent against theft at home is to install CCTV and PIR sensor floodlights. The former can provide evidence to the police and may put off any opportunist thief. Floodlights serve two purposes, they will ensure your CCTV records good quality footage and will also make a thief more conspicuous, such that yourself, neighbours or passers by can see the attacker.
CCTV is very cheap these days, with a reasonable camera and hard drive based recording computer available for around £100 in Maplin. Even cheaper deals can be found on ebay. Many of these devices can be monitored through a phone app too.
A good 20-30W LED floodlight will provide ample illumination and will be far more economical than a traditional 150-200W floodlight. Expect to pay around £30-40 at your local hardware store, possibly less online e.g. this 30W SMD LED one on Amazon
.
Index