I had a half day at work, motorcycle loaded up, 170 miles to cover, time away from kids, lovely dry weather and a pub dinner booked with family in 6 hours time. It doesn't really get much better than this. It turned out to be great ride up to Shropshire, cross country through the Cotswolds, Worcester and South Shropshire. Here is how I got on.
I left work after lunch and immediately cut straight up across the city via Islington, Highbury etc along the A1, before hitting the North circular and then out of London on the A41. This first leg was a little slow going due to traffic, but later on the A41 was almost empty. A fast dual carriageway with big sweeping bends leading to Aylesbury, a nice easy ride through green countryside, but not the fun country bends I was looking for.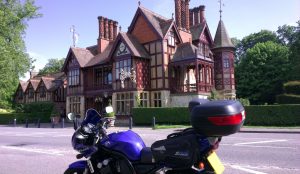 Aylesbury is a nice small town, but straight through I went continuing on the A41 to Bicester. The road was mostly single carriageway, but with occasionally stretches of dual carriageway. The scenery was pleasant, highlighted by passing the majestic Waddesdon Manor, but nothing compared to beyond Bicester as I entered the Cotswolds.